We are all unique and each of us has our own way of doing things and behaving in different situations.
These differences can cause challenges in our professional and personal lives.
Imagine if you could predict what someone will do in any given situation. Would you think that's a bit creepy…or interesting….. or perhaps unbelievable? However you feel, the most important thing is that it IS possible.
By appreciating these differences and learning how to identify them in those you meet, you can improve your communication and be more effective in influencing them.
This knowledge can be useful in a number of situations:
      • for personal interactions with family and friends
      • for leaders and managers to understand their team and be able to influence them effectively

      • in recruiting staff and ensure they interact well with the current employees

      • in any sales situation so you can better appreciate how to present you product or service in a way that will maximise the chances of a successful close.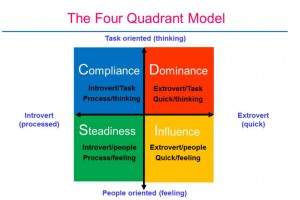 Through an  extended DISC personal analysis report you will appreciate and understand these differences, and identify how to effectively interact with other behavioural styles and, therefore, ultimately improve your performance and communication.
Extended DISC Personal Analysis assessment tool is a non-judgmental, behavioural psychometric test designed to provide information that can help you communicate and work better both professionally and personally.
What sets extended DISC apart from the other behavioural profiling tools such at Myers-Briggs Type Indicator and the classic DISC  that measure just 16 variations of behaviour, extended DISC identifies 160 different behavioural patterns.
Through a series of questions, taking 10 minutes to complete online, a 24 page report will be produced which identifies your motivators, strengths and development areas. Importantly, the report will distinguish those that are natural and need little effort from you, and those that you assign to your professional or work role, where you will need to expend more energy to maintain. These are the areas that could result in stress.
Extended DISC provides a great insight for leaders and managers of people to effect change and develop their team and staff. In my experience, it provides the best coaching support information into your own behaviour and that of your team.
Listen to my 7 min MP3 on  EDISC for Business.
What do the letters mean?
D
Dominance
Emphasis on shaping the environment by overcoming opposition to accomplish results. 
"D" Behaviours:·
Decisive, tough
Strong-willed
Competitive                    Demanding
Independent
Self-confident
I
Influence
Emphasis on shaping the environment by influencing or persuading others.
"I" Behaviours:·
Sociable
Talkative
Open
Enthusiastic
Energetic
Persuasive
S
Steadiness
Emphasis on cooperating with others within existing circumstances to carry out the task.
"S" Behaviours:·
Calm
Steady
Careful
Patient
Good listener
Modest
Trustworthy
C
Conscientiousness
Emphasis on working conscientiously within existing circumstances to ensure quality and accuracy.
"C" Behaviours:·
Precise
Analytical
Follows rules
Logical
Careful
Formal
Disciplined
How is eDiSC Used?
Extended DISC can be used in a number of ways: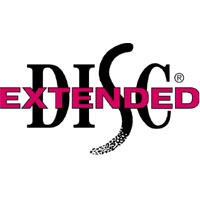 Increase your self-awareness: how you respond to conflict, what motivates you, what causes you stress, and how you solve problems
Learn how to adapt your own style to get along better with others
Improve team dynamics by understanding each other's styles and ways of working, facilitate better teamwork, and minimize team conflict
Foster constructive and creative group interactions
Understand individuals strengths and how to make the most of them
Develop stronger sales skills by identifying and responding to customer styles
Increase sales by identifying how each person sells
Improved hiring decisions by identifying the most suitable candidate
Reduce staff turnover by identifying employees who are losing motivation or are unhappy
Keep staff motivated by identifying what motivates each employee
Increase productivity by placing the right person with the right job
Improve communication by understanding each person's communication style
Extended DISC an easy-to-understand and effective tool to:
Build productive teams
Develop effective managers, supervisors, leaders
Train a powerful sales force
Improve customer service
Ease frustrations and interpersonal conflict
Enhance communication
Help with change and conflict management
Improve personal diversity awareness and recognition
Improve productivity
Assist in hiring, recruiting, placement, promotion, outsourcing
Enhance the counseling or coaching experience
I am an accredited extended DISC consultant and trainer and each 24 page report includes a 1 hour personal review to clarify how to use the information.
So please contact me now to discuss eDISC and how it will help you and your team.
Testimonials:
Dear Rob,
I just wanted to thank you for the work we did together last week.
The Extended DISC program that we put the final job candidates through gave me real
clarity about how each of them would fit into the role and how I might need to manage
them. This has allowed me to make a line ball decision with greater confidence than I would
otherwise have been able to.
I also want to thank you for fitting it all in at such short notice, and the speed with which we
were able to complete the process.
You have certainly helped me move quickly on what otherwise could have been a long
drawn out process.
Thanks again, Rob. I appreciate your help.
Toby Webb – Managing Director – LifeGuard Financial Services
_____________________________________________
Dear Rob,
Thank you for my Extended Disc Profile (eDISC) and the follow-up consultation. It is amazing how such a simple and easy questionnaire can lead to a report with such insights.
I've done other personality profiles in the past but I think eDISC has been the most useful because it focuses, not only on your inherent personality, but also on how to manage yourself and others you deal with in business, so you can optimise your performance.
Most of us enter small business because we are good at our profession but we want control and independence over our work. However, we end up having to deal with so many tasks outside of our expertise, and so many different types of people –clients, suppliers and employees.
Having been self-employed for nearly 20 years I think eDISC is really something that every small business person should do if they want to take control of the whole experience.I expect my eDisc profile will enable me to work more effectively with others and to make better decisions about tasks I take on myself and tasks I delegate to others.
Arrange an initial consultation »
CLEAR THINKING – CLEAR PLANNING – CLEAR RESULTS