Accelerate Your Business with "e-Business Office"
EVERY business owner wants to generate more leads, attract more clients and make more money so they can eliminate any current financial distress they find themselves in and begin to live the life they have always dreamed of having.
The E-Learning Marketing System was specifically created to provide all small business owners with the tools, resources and support they need to accomplish these goals.
How? First, we help you target your ideal client, understand exactly what they want when they make their decision to buy, and create compelling marketing messages that enable you to out-market and out-sell your competition.
Never before have so many resources been available to accelerate your business growth through the one educational and content-rich development programme.
If you're starting a new business – or even thinking about it – or wanting to step up to establishing a $1m business, then this resource is for you.
The programme will teach you how to: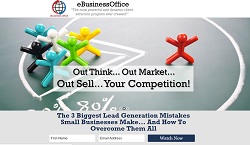 Generate more Leads
Drive more Transactions
Get more Conversions
Create more Profit
Increase your Prices
Available online 24/7 PLUS added coaching to keep you on track
Learn at your own pace in this 52 week programme comprising weekly videos and e-Classes to watch at a time that suits you – all the while being guided and mentored by an experienced business coach to apply everything you learn to your business.
e-Business Office features:
Weekly video E-Class
Weekly downloaded notes
Weekly group webinars
Access to hundreds of templates and resources from Day 1
Monthly accountability coaching call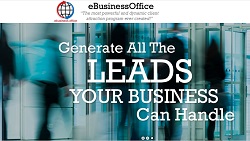 Perhaps you've attended courses and business marketing seminars, downloaded resources and business systems, or even subscribed to other educational programmes? Maybe you're confused where to start and how to put it all together?
More often than not, many programmes fail to deliver results for the pure and simple fact that the interest wanes over a few months. Most online educational programmes maintain interest for 2-3 months at most, and the rest of your investment is lost.
This one is different. How? Well it incorporates an accountability element. It includes a regular monthly coaching call with me to keep you on track and apply all that you've learnt that month. All this for a fraction of what a Business Coach would cost you to coach you through all this. All it requires is your time and commitment.
eBusiness Office is the Answer
eBusiness Office has taken over 3 years and cost over $2million to develop. It provides a weekly video and e-Class over 52 weeks you can watch at your leisure….at a time that suits your life. You can also join in on  weekly group webinar where topics are presented in more detail.
It is unique and unsurpassed as a resource for small business. Undertake the weekly E-classes at a time that suits you. Download the notes to keep. Access all the templates your business will ever need – whatever your business – from the first day you subscribe.
If you want to:
learn at your own pace,
have the commitment to undertake this 12 month business and marketing programme,
save money compared to one-on-one business coaching , and more importantly
know that you'll be kept on track and accountable along the way
then watch the webinar below which gives you a full grasp of how the programme can help you and your business.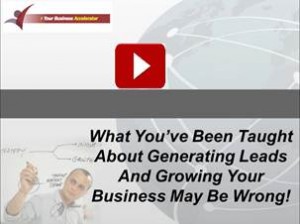 Then follow this link  and find out more about how eBusiness Office will:
Accelerate your business confidence
Accelerate your business marketing
Accelerate your business profits
Why Is This Different?
Why is this programme any different to other online courses? Well here's one crucial element other programmes don't include – a monthly subscription to eBusiness Office includes a monthly coaching and accountability session to keep you on track, and applying everything you are being taught to your business.
Keep on Track
The simple fact is that the dedication of most people doing online courses last between 2-3 months and then it falters. The money invested is wasted as the resources just aren't being utilised.
Apply What You Learn Immediately
So I keep you on track and motivated by seeing how what you learn online can be applied to your own business. You are generating effective and productive strategies from the first week….and can access all the additional resources.
eBusiness Office is proven to be effective.
Develop your marketing knowledge and start applying it today!!! Contact me and we can discuss how this can work for you during a free, no obligation Discovery Session.